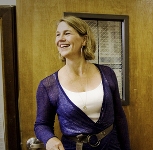 Alan Fishman, Chair of the Board of Directors of the Brooklyn Community Foundation, announced that Cecilia Clarke will join the Foundation as its new President and CEO. Ms. Clarke succeeds Marilyn Gelber, who stepped down from the post on June 30, 2013.
"Cecilia is a passionate leader and creative thinker who has succeeded enormously at every phase of her career. She embodies the energy and entrepreneurial spirit that has made Brooklyn a global destination. We are thrilled to have Cecilia lead the Foundation during this very exciting time in Brooklyn," said Fishman.
Clarke comes to the Foundation directly as the Founder and Executive Director of the Sadie Nash Leadership Project, an award-winning educational organization for low-income young women. Clarke grew Sadie Nash from an inaugural class of 16 in 2002 to its current roster of more than 500 participants per year. Her vision has helped redefine leadership models for young women to take action, lead by example and challenge the status quo.
Prior to establishing Sadie Nash, Clarke enjoyed a successful career in the arts. She led the Skowhegan School of Painting and Sculpture, one of the nation's leading summer residency programs for emerging visual artists; served as Associate Director of the Drawing Center; and managed government fundraising at the Brooklyn Museum. Clarke began her career as a social worker, counseling women at Fountain House, a residential "club house" program for the mentally ill. She received her B.A. from Georgetown University.
Clarke will start at the Foundation in early September; Foundation Chief Operating Officer Michael Burke will serve as interim President until she begins.