Tuesday, November 8, 2016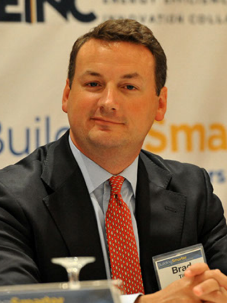 Brad Tito Joins Westchester Community Foundation Board Of Advisors
(Hartsdale, NY—November 8, 2016) The Westchester Community Foundation is proud to announce the election of addition of Bradford J. Tito to its Board of Advisors. The Board provides leadership for carrying out the Foundation's mission to promote philanthropy and improve the quality of life in Westchester.
Mr. Tito, a resident of Edgemont, is a program manager with the Communities and Local Government Division of the New York State Energy Research and Development Authority, which works to promote clean energy solutions in New York. Prior to that, he was the director of sustainability in the Yonkers Department of Planning and Economic Development.
"Adding Mr. Tito to our board," said Board Chair Theresa Kilman, "means we will have a fresh perspective on one of the most pressing issues in our county – environmental sustainability. We look forward to his insights and support."
Mr. Tito will join advisors Dale Akinla, II, Hon. Joaquin F. Alemany, James T. Ausili, Esq., Nancy Jasper, M.D., Paul Jenkel, Theresa Beach Kilman, Anahaita Kotval, Michael Markhoff, Esq., Jose A Reynoso, J.D., LL.M., Lee Van Allen Roberts, Kathy N. Rosenthal, Esq., Drusilla van Hengel, and Karen J. Walsh, Esq.