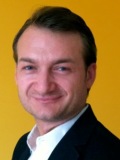 The Arcus Foundation, a leading global foundation advancing pressing social justice and conservation issues, has announced Adrian Relu Coman as Director of its international human rights program.
Coman will be responsible for leading Arcus' International Human Rights Initiatives for the development of a global movement around sexual orientation and gender identity that is able to support national reforms and integrate these issues into international human rights mechanisms, such as at the United Nations. As part of its new social justice strategy, Arcus will work closely with organizations in or close to countries where human rights and protections are most urgent.
"With many years of experience on the front lines of the social justice movement at the international level, Adrian is the ideal person to spearhead Arcus' work in the global human rights arena," said Kevin Jennings, Arcus' Executive Director. "As the Foundation expands its efforts to critical locations around the world, Adrian will play an instrumental role in developing and achieving strategic goals and objectives under our new social justice strategy."
Coman's career in philanthropy, advocacy, education, politics and the human rights of Lesbian, Gay, Bisexual and Transgender (LGBT) people stretches back over 18 years. He most recently served as an advisor to a member of the European Parliament, focusing on human rights and social justice issues. Previously, he was Program Director for the International Gay and Lesbian Human Rights Commission, where he designed and implemented the organization's strategy at the United Nations.
Earlier, Coman was Acting Director and Program Associate of the Baltic-American Partnership Fund at the Open Society Institute. From 1997-2002, he was the Executive Director of ACCEPT, the Romanian national human rights nongovernmental organization (NGO) working for LGBT equality. He also served on the board of the European Region of the International Lesbian, Gay, Bisexual, Trans and Intersex Association.
Coman received his Master's degree in Human Rights from Columbia University and is a graduate of City University of New York and Cuza University of Iasi, Romania.