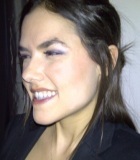 Adriana Jimenez has joined the staff of the Surdna Foundation as Grants Manager. In this role, she works within the newly formed 2-person Office of Grants Management to oversee the policies and procedures of grantmaking for the Foundation, including: legal compliance, review of grantee financials, intake and processing of grant requests and working with programs and senior management to support strategic grantmaking across all funding areas.
Most recently, Jimenez worked as both Grants Coordinator and Communication Coordinator at The Leona M. and Harry B. Helmsley Charitable Trust, where she managed the organization's website and built many of its online application and reporting forms, in addition to supporting the compliance process.
She has also held various positions at nonprofits in New York City, including Membership Director of ArtTable and Membership Manager at the Children's Museum of Manhattan.
Jimenez holds a Master of Arts from Columbia University Teachers College, where she completed her thesis on measuring outcomes for subway arts programs. She has an undergraduate degree in Art History with a focus on communications in the cultural sector. Jimenez is an active member of the Grants Managers Network. She is also a Holistic Nutritionist and Health Counselor, certified by the American Association of Drugless Practitioners.