Wednesday, December 2, 2015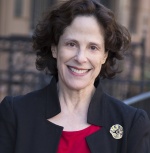 A message from PNY President Ronna Brown, published originally in the New York PhilanthroPost Monthly December 2015 edition.
"In the first year of Vision 2025, we have made remarkable progress in all five areas of the plan."
Just a little over a year ago, we shared our Vision for 2025, developed with the Board and members, with all of PNY.  With your support – it has been a year of amazing progress. Thank you!
Vision 2025 is the set of goals underlying Philanthropy New York's 10-year plan presented to members in October, 2014, to improve our conference facilities, upgrade technology, expand programming, grow a public policy fellowship program and deepen our overall organizational stability by investigating new revenue streams outside of membership fees. It is a big plan for a decade of activity, supported with special grant funds from our members to our Fund for 2025.  When we officially launched the Fund for 2025 in October 2014, we promised that we would report on our progress every Fall.  And in case you missed it, the Report on Year One is online now!
First and foremost, I must say thanks once again for the impressive generosity of our members who contributed over $3.7 million to the Fund for 2025, which is making our expanded work possible. And a special thanks to the Fund for 2025 Committee, who continued their close involvement even up to the day we opened our new Philanthropy Center at 1500 Broadway to members in September. 
I encourage you to read the brief report online, but I am thrilled to report here that in the first year of Vision 2025 we have made remarkable progress in all five areas of the plan. 
Many of our members have already experienced the most visually apparent area of progress: the move to your new Philanthropy Center at 1500 Broadway. But even if you have visited the new conference facilities, you might not have heard about some of its qualities that are detailed in the report, such as our focus on sustainability and universal design. The report also describes the features that enhance members' ability to convene audiences for a wide variety of different kinds of meetings.
The Report on Year One provides additional details on the major technological improvements we've made to support member communications.  There is a brief outline of the important work that our first Public Policy Fellow, Stephanie Chrispin, is doing and what we hope to accomplish in the coming ten years with the program.  Building out our programming to create "deeper dives" in addition to our normal set of programming is also a key part of Vision 2025, and we talk in the report about some of our efforts there, specifically related to the capacity of our new space and technology.  Finally, now that we've made our move to 1500 Broadway, we can really focus on our long-term sustainability plan.  
We are looking forward to updating you on Vision 2025 progress every Fall for the next nine years.   It is a journey we will take together.  
Best Regards,
Ronna