Wednesday, March 22, 2017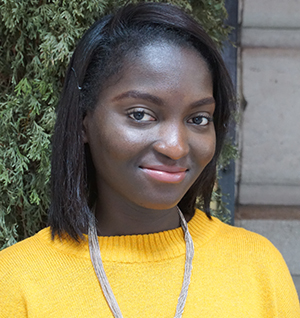 Violence Against Women Is Not Only a Local Issue 
By Bintou Sankareh, Learning Services Associate & Hunter College Public Service Scholar
This past January, I had the chance to study in Morocco. Morocco was on my travel list for a long period, and I have always wanted to visit there to be immersed in the Moroccan traditions. While I was there, I was taking a multicultural psychology course, which focused on gender in Morocco and problems facing Moroccan women. As a double major in psychology and sociology, Morocco was the perfect place for me to spend my winter semester, to learn about the challenges women are experiencing both mentally and physically. While I was there, I was struck by the number of women still facing abuse by their husbands or a male figure in their lives. They are afraid to speak up. If they do, they bring shame to their family.
In 2004, changes were made to the Mudawana, also known as the family code, in Morocco which increased women's rights. The Mudawana concerns issues related to the family, including the regulation of marriage, polygamy, divorce, inheritance and child custody. Morocco is not the only country that has family code, countries like Algeria, Egypt and Tunisia also practice the idea of the family code. The family code secured more rights and greater access to education for these women.
However, domestic violence is still not a crime in Morocco. Without protections from the government, women must rely on NGOs for help.
The experience left me wondering: Which NGOs are helping women?
One of the NGOs I visited was the Moroccan Organization for Human Rights (OMDH). OMDH is an organization that focuses on individual and collective Human Rights. OMDH was introduced to me by a study abroad coordinator in Morocco, and it was a course requirement to visit an NGO to learn about their work.  The coordinator arranged the trip and I was able to learn about the organization in person and had the chance to have a conversation with the staff members.
Association Solidarité Féminine (ASF) is a nonprofit organization that helps single mothers gain work experience by training them at the association's restaurant. One can argue this organization is helping single mothers gain work experiences after escaping their abusers. However, is the organization helping the women recover from the psychological traumas of their violent situations? I tried to find out, but it understandably does not have a working website. Organizations like ASF don't want to be public, so they must remain underground and find ways to reach the women who are in need.
Amal Women's Training Center is another organization that works on women's issues in Morocco. The Organization's main mission is to empower women through culinary skills and providing jobs for disadvantaged women.
Another organization that I came across during my research is The Moroccan Women's Democratic Association (ADFM), which intervenes when women's rights are being violated or when they receive complaints from female victims or witnesses.
While I decided to focus on Morocco because it's where I studied this winter, I realized it's not the only country facing gender violence. There are many other countries that are struggling with the issue. Bangladesh is a perfect example where 80 percent of married women are abused. A study conducted in New Delhi found that 92 percent of women reported having experienced some form of sexual violence in public spaces in their lifetime. And the list goes on.
Of course, this issue cannot be solved overnight. Funders such as the Novo Foundation, Ms. Foundation for Women and the Avon Foundation are trying to end domestic and gender violence both locally and internationally. These foundations see philanthropy as a catalyst to empower women, girls, and gender nonconforming people to challenge institutions and societies perpetuating gender violence,  with the goal of greater access to opportunity and self-determination led by and for them.
As we celebrate International Women's Month this March, let's not forget some problems women are still facing today, such as violence. A society cannot progress when half its citizens are being abused. Let's help the voiceless and make the world a better place!