Tuesday, September 30, 2014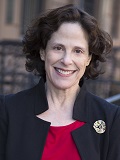 Using Documentary Films to Promote Change
A message from PNY President Ronna Brown, published originally in the New York PhilanthroPost Monthly October 2014 edition
One of PNY's goals is to develop quality programming that addresses a variety of funding areas in a unique, impactful way. We're thrilled to partner with
Ford Foundation's JustFilms
initiative for the eighth season of our Documentary Film Series. This series was established to engage with our members, foster discussion and provide alternative ways of thinking about philanthropic missions. Documentary films offer an avenue where foundations and nonprofits get more bang for their buck by helping them reach a broader audience with a relatively small amount of funding. 
Previous and upcoming films in this series address topics like child welfare and education, disaster relief, healthcare, the environment, social justice and the American food system. Before each film, there is a wine-and-cheese reception, and after the screening, we host panel discussions with the film's creators and other experts in that field.  
Mark your calendar for our upcoming screenings:
We are Many documents the day of February 15, 2003, when millions of people in 800 cities across all seven continents, marched against the impending invasion in Iraq.
Food Chains examines the human cost in our food supply and the complicity of the $4 trillion supermarket industry.
Kumu Hina tells the story of Hina Wong-Kalu, a transgender native Hawaiian teacher and cultural icon who brings to life Hawaii's traditional embrace of mahu – those who embody both male and female spirit. 
Time is Illmatic explores the social conditions that influenced the creation of Nas' 1994 debut album, Illmatic. 
Our Documentary Film Series is some of our most popular programming, so make sure to
RSVP
if you're interested in attending one or more of these screenings. I hope to see you at the movies.
Best,
Ronna