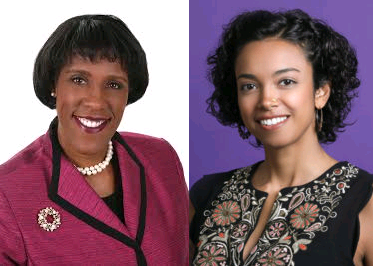 Six Reasons Funders Should Increase Support for People Of Color-Led Work
By Teresa Younger, President and CEO of the Ms. Foundation for Women, and Vanessa Daniel, Executive Director of the Groundswell Fund.
This month Ms. Foundation for Women and the Groundswell Fund joined with other foundations and individual donors to issue an open letter challenging the philanthropic community to increase funding to people of color-led grassroots organizations. 
Signatories include at least two other New York-based foundations (New York Women's Foundation and Third Wave Foundation), along with two of the largest women-focused funder networks in the nation, the Funders Network on Population, Reproductive Health and Rights, an association of 43 foundations that collectively issue $1 billion in grants annually; and the Women Donors Network Reproductive Health Circle, a group of high-level individual donors.
The majority of signers have been working together for more than a decade to advance racial equity in the field of reproductive health, rights and justice philanthropy. Having made significant strides, even prior to the election, to address the negative impact that under-resourcing women of color-led work was having on the fight for reproductive freedom, we were poised to take a united public stance after the election. The letter is a challenge to ourselves to double down on our work for equity and an invitation for the rest of philanthropy to do the same.
While each signer had their own reasons for signing on, here are ours:  
We believe the measure of a nation, a people and a field like philanthropy is how it treats those who are most vulnerable. As communities of color come under a tidal wave of attacks in the rising climate of xenophobia and white supremacy, philanthropy has a clear choice: it can stand with people of color or  remain silent. This choice is a moral one and a strategic one, and it is a golden opportunity for philanthropy and for the many good hearted people of all races working within it to do the right thing. Doing the right thing will require some courageous reflection, and it will require change to seize the opportunity before us. 
There is an opportunity to reverse longstanding racial disparities in philanthropic giving resulting from a widespread practice of resourcing people of color-led organizations last and least. And there is a chance to recognize that underfunding people of color-led work has dire consequences not only for communities of color but for the rights of all people. Some of the greatest gains for low-income white people have been gained from battles won by people of color (the Civil Rights Act of 1964 or Affirmative Action) or from those won in multi-racial coalition (worker rights, health care access). We believe that a good bar for funding most portfolios is more than 50 percent giving to people of color-led work.  
There is an opening to reflect on the logic of attempting to resource the fight against a white supremacist administration by awarding the majority of resources to white-led organizations that hardly acknowledge that white supremacy exists, much less plan to confront it. 
There is a chance to acknowledge that the trickle-down approach to philanthropy, which floods national organizations with donations and ignores the grassroots, is about as effective at getting money to the local and state levels as trickle-down economics is in moving resources from the rich to the poor. And with this acknowledgement there is the prospect of funding both national AND grassroots organizations and scaling the ratio of investments between these in a way that reflects an understanding of where the attacks are the most numerous and where, with resources, we are most likely to beat them back. We believe the greatest share of resources should move to state and local work, particularly grassroots organizing to hold public officials at all levels of government accountable within their home districts.  
It is an occasion to realize that there is no better time than now, when a parade of avowed white nationalists are being ushered into the highest positions in the land, for white people working in philanthropy to get over their discomfort around talking about race. There has never been a more opportune moment for white colleagues to realize that the lives of people of color are more important than white comfort and that they have both the power and a deep moral obligation to build their own courage and skills to speak up for racial justice. 
There is a wonderful opportunity to follow the lead of many women of color-led organizations and bust through issue silos to lock arms across issues and constituencies. This means funding the women whose right to a safe abortion is being threatened, along with the immigrant women who are being pulled from their homes, separated from their children and deported; the low-income women of color who aren't getting any paid sick or family leave; and LGBTQ people, especially trans women of color who face some of the highest murder rates of any group. It is a moment in which to realize that oftentimes these people are the same people, that oppression is intersectional and can come at us from many directions at once.
Both of our foundations provide funding to the National Latina Institute for Reproductive Health (NLIRH), which is on the frontlines working to advance Latina women's rights outside of the White House in Washington, in the Rio Grande Valley in Texas and in neighborhoods rights here in New York City. When NLIRH talks to members of Congress about the challenges women face when seeking abortion services, they speak up loud and clear about the ban on funding for poor women, the systematic closing of women's health centers in Texas and the chilling impact of ICE agents arresting women in health centers and courthouses. On the streets of New York, NLIRH organizes and mobilizes young people who are pregnant and parenting, helping to stop shaming and working to ensure that teen parents have the resources they need to raise their families with dignity.
Another grantee partner, New Voices for Reproductive Justice, is commemorating "Women's Herstory Month" by exposing the racism and sexism of the criminal justice system. Long supportive of #BlackLivesMatter, the group is working to be sure that the double oppression faced by Black women and girls is identified and dismantled.
No nation, field or person is perfectly conscious from the start. We are all a work in progress. We are all tasked with meeting moments of awakening with the courage to change and live into the promise of our best selves in service of a better world. We are proud to contribute to the mounting hope that in philanthropy will, in this critical moment in our country, choose courage and live into its promise.  
Join with us!