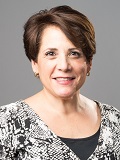 Philanthropy Can Play a Role In Managing Student Debt Crisis
By Cynthia Rivera Weissblum, CEO, Edwin Gould Foundation
Remember the days when the measure of a college success program was college matriculation?
Most of the participants in the room during a recent Philanthropy New York member briefing entitled Know What They Owe--Ensuring that New York's Students Graduate College with Manageable Debt could recall a time when "getting in" was the goal.
But with student debt now surpassing credit card borrowing – student debt now tops $1.2 trillion – many of us in leadership roles in philanthropy are eager to understand the way college debt has gone from being a reasonable risk – a means to an end --to a pernicious force that can foreclose on opportunity and upend lives, especially for vulnerable low-income students.
Part of what we are learning is the staggering size of the problem and how much it has grown even in the last 15 years. Currently, 43 million students graduate with education loans-- almost 71 percent of all bachelor's degree recipients have debt, compared with less than half two decades ago and about 64 percent 10 years ago. The average amount they will have to pay back? Slightly over $37,000, according to estimates based on government figures.
As someone who has worked in the college success arena for decades, and now advises organizations accepted into the Edwin Gould Foundation Accelerator, I know that post-secondary education attainment depends on three building blocks:
Academic preparation,
College knowledge
The ability to make sound financial decisions.
As an investor in and board member of uAspire, I've watched this Boston-based organization isolate the points in the educational journey when crushing student debt threatens to push ambitious young people off the path to a better life:
What colleges you think of applying to
Where you apply
If you correctly apply for financial aid
If you understand the package you are awarded
If you can keep the package (often it is contingent upon grades)
If you are accumulating a lot of debt, are you majoring in something that will allow you to actually get a job when you graduate. 
They have been eager to disseminate this important information and promote strategies for improving academic and financial outcomes for low-income kids like:
Informing students that public colleges are a better value than for-profit schools.
Encouraging high ability, low-income students to apply to competitive private colleges that have large endowments and generous financial aid packages.
Steering low-income students away from for-profits and smaller private colleges and universities, where costs can be high and financial aid low. 
Helping students interpret financial aid award letters. Too often, colleges call work-study, state and federal grant money, federally backed loans and private loans taken by a student's parents a "scholarship." Students are hard pressed to figure out what they will have to pay back, how much and when.
In an effort to identify colleges and universities that use confusing or dishonest financial aid practices, uAspire has been working with college success organizations to collect and compare actual financial aid letters sent to students.
Already, they have collected 25,000 award letters from school districts, charter management organizations, and local and national non-profits. Read more about the financial aid letter collection project here.
It is gratifying to see the way the philanthropic community is responding to the current student debt crisis, and I salute those who support efforts to help low-income students move through college while maintaining their financial health. But we can do more. I would ask all those who are investing in college access and success programs to look carefully at whether the "college-or-bust" mentality inherent in certain programs encourages students to disregard the very real hardship in store for them when they take on too much educational debt. In my view, donors should make sure that financial literacy is a component of any college-prep program for low-income students.
We want all our capable young people, especially those from disadvantaged backgrounds, to use college to jump start a new array of opportunities in life. But that can't happen if we don't teach them to keep their eye on the bottom line.