Participation and Double Entendre
A message from PNY President Ronna Brown, published originally in the New York PhilanthroPost Monthly June 2017 edition.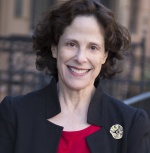 Philanthropy New York's 38th Annual Meeting next week won't be all business. When we named the program "The Power of Participation," we knew it had double meaning. This year's annual meeting has even more time for networking than last year. 
If you're a morning person, get your buzz and biz going early with the Annual Morning's coffee and light breakfast. There will also be a short break in the program before the headline panel when members can chat with colleagues.  Lastly, the big lunch reception will be taking place on the beautiful 12th Floor reception area of the building. All of these member networking opportunities are for connecting with colleagues you know, colleagues you want to know and people you'll be glad chance brought you together.
We've been reaching out to member organization that have just joined in the past year to tell them about the opportunities to meet colleagues and expand networks. But there are also many new trustees and employees new to organizations that have been members for many years.  If you've never been to a Philanthropy New York annual meeting, this is a great year to get in on the action. 
For our 38th Annual Meeting "The Power of Participation: Democracy Building Now," the main focus of this half-day conference will be on the interrelated issues associated with voting rights, access to participation and how people get the information that motivates them to engage. As always, the Annual Meeting will begin with the election of new Philanthropy New York Board members and a review of the past year's accomplishments. If you want to get to know the people who will be stewarding your local philanthropy serving organization, there is no better time to establish the connection.
We hope you are as excited about the networking possibilities as you are about the "Power of Participation: Democracy Building Now" topic. 
See you Friday, June 16!