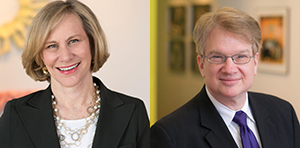 Leading the Way for Food Equity
by Laurie M. Tisch, President, and Rick Luftglass, Executive Director,
Laurie M. Tisch Illumination Fund
This blog is re-posted with permission by the authors, and originally appeared in the Huffington Post.
Funders interested in food equity should check out the upcoming "South Bronx Learning Tour" on Aug. 4.
For those of us who are committed to making a positive impact on the food landscape of New York City, it's an immensely hopeful time for progress. There are more New York-based organizations working to bring healthier food to more people today than ever before. Supportive policies are in place so governments can serve their constituents at the state and municipal levels. And businesses are adopting sustainable practices to responsibly participate in the supply chain, from implementing food waste-alleviating practices to sustainable sourcing of their products. And last month several of the Laurie M. Tisch Illumination Fund's grantees and partners were selected by the New York City Food Policy Center at Hunter College for its inaugural list of 40 Under 40—leaders in the field who are working to transform the city's food system and are doing so through innovative ideas and new partnerships.
Despite the great progress made to date, something that we often hear is a desire for more opportunities to learn from each other and other leaders in the field. For all the leaps and bounds made in the food access field, leadership development and information-sharing are often considered as an afterthought, put aside for later in the face of more pressing challenges.
However, in our experience as longtime advocates for community-based approaches to change, we have found that organizations greatly benefit their constituents and their staff by offering opportunities to learn from others and polish their leadership skills. Many in the food access space approach the work from the perspective of a specific discipline, whether it's nutrition, community development, agriculture, academia or policy. But the reality is that the issue of food access is fundamentally interconnected and thus requires an intersectional approach to truly address the roots of inequality. Collaboration is vital.
One way to encourage such collaboration is for funders and other network hubs to take on more responsibility for developing leadership, both through convening their networks in service of information-sharing and through supporting programs that encourage and enable leadership and skills development.
Leadership development is a fundamental part of our Healthy Food & Community Change initiative, a $15 million, five-year commitment to making an impact on the food landscape of New York City. The initiative supports innovative, community-based programs such as LISC NYC's Communities for Healthy Food and City Harvest's Healthy Neighborhoods Initiative, both programs that empower community members to take charge of their health. And one of our earliest projects in the food access space was in academia, where with the formation of the Laurie M. Tisch Center for Food, Education & Policy at Teachers College, Columbia University, we hoped we could provide a place for the next generations of leaders to share ideas and learn from each other.
It was through that work that we realized that collaboration needed to take place outside the classroom as well as an integrated part of a holistic strategy to enact change. We saw that there was a need for the field as a whole to reexamine its leadership pipeline, to ensure that others are given opportunities to be exposed to different schools of thought and to provide opportunities to enable collaborations. In addition, to truly enact change that persists, organizations need to provide opportunities for community members to be included in the process.
That's why we were proud to see several of our program partners in the "40 Under 40" list, which includes community advocates, policymakers, educators and other sector leaders.
For example, Colleen Flynn, director of programs at LISC NYC, spearheaded the creation of Communities for Healthy Food NYC, which integrates access to healthy and affordable food into neighborhood revitalization programs at community development corporations in high poverty neighborhoods , and two of her partners on the ground, Bianca Bockman of Bedford Stuyvesant's Northeast Brooklyn Housing Development Corporation and Taisy Conk of New Settlement Apartments, were also among the 40 Under 40. Together they are working to increase overall community health through outreach, education, job generation and improving healthy food access points.
Other partners included in the list are Claire Uno at the Laurie M. Tisch Center for Food, Education & Policy and David DeVaughn of City Harvest, who joined forces to advocate for the reauthorization of the federal Child Nutrition Act. And Ashley Fitch, previously the director of the Fruit and Vegetable Prescription Program at Wholesome Wave, led the launch of the program in New York in partnership with NYC Health + Hospitals—enabling healthcare providers at public hospitals to write prescriptions for fruits and vegetables that can be filled at local farmers markets.
Colleen, Bianca, Taisy, David, Claire and Ashley all joined the Laurie M. Tisch Illumination Fund for last year's Healthy Food & Community Change grantee convening, where they shared learnings and expanded networks.
There has never been a time where there have been more passionate, innovative people trying to make lasting change than there are today. However, there is much exponential growth that is still untapped and unrealized because we don't do a better job of connecting our leaders, present and future. Our hope is that by continuing to create opportunities for cross-collaboration and interdisciplinary thinking, we can open up engagement with food to an even wider audience of stakeholders.