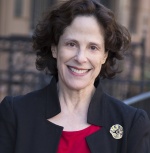 A message from PNY President Ronna Brown, published originally in the New York PhilanthroPost Monthly June 2015 edition.
We were thrilled with the enthusiastic response of our members to the recent Annual Meeting, "
Global Perspectives, Universal Connections
."  Huge thanks go our generous hosts, JPMorgan Chase, the PNY staff and board, and special thanks go to the terrific panelists, moderators and "PHIL talkers." 
With the live stream audience and in-person attendees, well over 200 funders connected with international leaders and activists like Leymah Gbowee (2011 Nobel Peace Laureate and President, Gbowee Peace Foundation Africa), Jan Eliasson (Deputy Secretary-General, United Nations), Nicholas Kristof (Columnist, The New York Times), Avila Kilmurray (Director, Policy & Strategy, Global Fund for Community Foundations), Johanna Satekge (Site Coordinator, Ramakgopa Clinic, mothers2mothers) and Rana Sabbagh (Executive Director, Arab Reporters for Investigative Journalism). 
Though our speakers had very different backgrounds and perspectives, there was agreement in one area --about what makes for good grantmaking practices. We heard these recurring themes during the day:  
Take the time to develop authentic relationships with the people you seek to serve.  
Support local organizations and their leadership when possible. 
Change takes time. Building trust takes time. Real impact takes time. Commit for the long haul.
 
These themes are not new; we hear them over and over again. But, by hearing them from new voices, using different words and their own examples, it was once again clear that these are the  good funder practices that can make the difference between being an effective grantmaker, or not.  
We will continue these discussions with additional convenings, programs and other collaborative events in the months to come.  We hope you will join us. And, if you heard different or have additional advice, please
add your voice to mine
. 
Best Regards,
Ronna