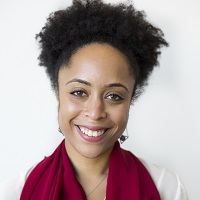 by Tynesha McHarris, Director of Community Leadership, Brooklyn Community Foundation
You don't have to look far these days to see young people taking the lead on the biggest social justice issues of our time. From #BlackLivesMatter protestors to Dreamers organizing for immigration reform, inspiring young people are driving extraordinary national movements on race and equity. 
Black Youth Project 100
, a national organization with a substantial local chapter (comprised largely of young Brooklynites), is led by millennials committed to shaping public policy, developing the leadership of their generation, and running campaigns to end racial profiling. Organizations like BYP are making it clear that the voices of young people (and those most marginalized) are mapping out a new future: one with more opportunity, fairness, and justice. 
And still, too often traditional power structures—foundations included—leave these voices out of the processes and decisions that impact their future. 
Brooklyn Community Foundation is committed to changing this with a new strategy that puts young people at the center of our work. 
Last year, in my first task as the Foundation's new Director of Community Leadership, we set out to examine the challenges facing the borough and learn from residents—including many young people especially—about how we could best support lasting community-led change. We did this through a unique community engagement project called
Brooklyn Insights
:
Over six months, we spoke with 1000 Brooklyn residents; in nearly every conversation, we heard about the contributions of young people and the strength and the potential they bring to strengthen their communities. But we also heard about their deep vulnerabilities.

Stories of Brooklyn Insights: Meet Abdu
"For the most part, people think that being a young black man, I didn't graduate high school…I'm always out there doing drugs…not doing anything positive with my life. I'm here to prove them wrong."
And these stories are backed up by statistics. Almost half of all young Brooklynites are living in or near poverty, most of whom are young people of color. In parts of Brooklyn, nearly 40% of 16- to 24-year-olds are not in school and not working. Boroughwide, one in ten youth have an arrest record. 
These conversations brought to light the immense structural barriers facing young people. In Coney Island, we learned that young people from immigrant communities are not just managing familiar teenage responsibilities—school workload, family obligations, and part time jobs—but also wrestle with fears of deportation (their own or family members). They are also often responsible for supporting their families as they navigate many NYC systems to receive services and benefits.
Stories of Brooklyn Insights: Meet the Youth Fellows
With youth as the top concern, many intersecting issues emerged, including criminal justice, immigrant rights, neighborhood strength, and racial justice (
Explore the Brooklyn Insights Report at brooklyninsights.org
).
It became clear that focusing on young people (working for and alongside them) would be the key to sparking change throughout Brooklyn
. 
And so this year, Brooklyn Community Foundation is launching Invest in Youth as our cornerstone initiative. For the next decade we are committed to improving social and economic opportunities and outcomes for young people across the borough, particularly young people of color.
Invest in Youth will combine strategies around Youth Development and Leadership, Youth Justice, and Immigrant Youth to expand youth programs and services in neighborhoods where few exist, reduce school suspensions, youth arrests and re-arrests, and increase access to resources and services that empower and support immigrant families. We will be providing support for direct service as well as advocacy and organizing—each critical to changing the course of young people's lives.
We know there is huge potential for a return on our investment. Consider that it costs upwards of $250,000 a year to incarcerate a young person in New York State, or that high school graduate will earn over 50% more on average during their lifetime than their peers who do not graduate. 
But we also know that this investment isn't just about economics. This is about justice. We have a moral imperative to support our young people. We have a responsibility to remove the structural barriers that operate as opportunity killers in communities and neighborhoods across Brooklyn. 
The #BlackLivesMatter movement has confronted the inherent racism existing within structures and institutions in this country. This is an important moment for stakeholders—and philanthropic institutions as a critical partner—to be courageous and tackle the complex problems that have plagued our borough and our nation for too long. 
We at Brooklyn Community Foundation are excited to join with young people, our nonprofit community, and our foundation colleagues to work toward a more fair and just Brooklyn. 
We are starting this work in a variety of ways that build our institutional knowledge and strengthen our external partnerships. In our first year, we are 
Launching a competitive grantmaking program, deploying multi-year GOS where possible; 
Developing model partnerships with city agencies aimed at systemic reforms;
Creating the first Brooklyn Youth Fellowship in partnership with youth-serving nonprofits;
Building a youth-led grant program to support youth voice and youth agency.

We also want to change the way philanthropy is done. We want to show that young people can be insightful advisors and grantmakers. We want to lift up organizations that may not typically access foundation funding—especially those led by community members and people of color. And above all, we want to support organizations committed to racial justice and equity—the most important challenge of our time.

We have an exciting journey ahead of us, and we are encouraged by the young people who are pushing us forward every day. We know all eyes are on Brooklyn for many reasons, and we hope to offer one more. Brooklyn's future depends on it.