Wednesday, August 13, 2014
How do we decide w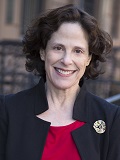 hat topics to explore in these deeper dives? The short answer is: You
A Message from PNY President Ronna Brown, published originally in the New York PhilanthroPost Monthly July 2014 edition.
August may be a relatively quiet month in the philanthropic community, but we are gearing up an autumn full of terrific programs. Just a portion of what we've got on coming is already on the events calendar. But one thing is clear already: we're making good on our commitment to "go deep." 
A top priority in our 2014-2016 Strategic is for PNY to "expand its offerings of programs that provide a 'deeper dive' or 'conference format.'" This goal is in direct response to the feedback we've heard from members at all stages of their careers who have told us that they want us to be a source of deep engagement and learning. 
In the feature box on our new website's homepage, there is currently a "Spotlight on…" graphic that notes some of the extended program series topics to which we're already committed. They include a variety of topics, some on core aspects of philanthropic practice – like capacity building and diversity in philanthropy – and others on issue areas of concern to many funders – like arts and women and girls.
While you can find individual programs from these four separate "Spotlight" series scattered across our events calendar, we've made it easy for members to see all the various elements of each series as they evolve all on one page – let's call it a spotlight on the Spotlight series.   
This is not our first time "going deep". Over the past few years, we've done several mini-conference formats, too.  In addition to our Annual Meeting half-day sessions focused on crucial public policy topics, we've also done short conferences ranging from a day-and-a-half to four hours on topics like "Money and Power in Post-Election America: Where is Philanthropy?"; "Sandy, Philanthropy and a Year of Hard Lessons"; and "The New Rapid Deployment: Resources for Returning Veterans." We are committed to continuing those kinds of single-event extended learning programs.  In fact, we're working with Philanthropy Roundtable and some of our members to revisit Veterans issues in a new half-day conference in December that will look at what we have learned in the two years since "The New Rapid Deployment."
How do we decide what topics to explore in these deeper dives? The short answer is: You. We hear a lot of amazing program ideas from members and when we hear the same topic a few times we try to act on it.  For example, over the past year (and continuing this Fall) we've been presenting a series on "The Next Economy" that was developed in partnership with the Sister Fund, EDGE Funders Alliance and the Movement Generation Justice and Ecology Project. 
What are some of the elements of your philanthropic practice that you'd like to explore more deeply with colleagues?
Our best ideas come directly from members.  We hope you will think about this and share with us some of the areas of learning you'd like to explore.  Right after you finish enjoying the end of summer.