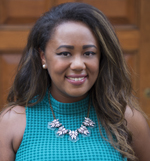 Finding My Power and Community in Philanthropy
By Stephanie Chrispin, Public Policy Fellow at Philanthropy New York
As my time with Philanthropy New York comes to an end, I find myself reflecting on the lessons I've learned from my experience as the inaugural Public Policy Fellow. Not only has my understanding of institutional philanthropy grown, but also where young people like me can make a difference. As I move on to the next chapter in my career, I take with me three lessons:
Find Your Community: Grantmaking can be isolating. It can be difficult to explain to friends and family what exactly it is you do if they're not in the sector. For me, this isolation was compounded by the dearth of young professionals in philanthropy. The Council on Foundations' 2016 Full Grantmaker Salary and Benefits Report found that only 11 percent of full-time staff at surveyed foundations are under the age of 30. Peer networks like Emerging Practitioners in Philanthropy and PNY's Young Leaders Breakfast Club help address this disconnect by building community among younger professionals in the field. These networks serve a dual purpose of fostering relationships and supporting professional development across the sector, much needed resources to navigate what can be an unsure career path.
Build the Leadership Pipeline: When I entered graduate school, philanthropy wasn't even on my radar as a potential career trajectory. My introduction to the sector came after meeting fellow students who had grantmaking experience, who helped broaden my understanding of how to advance social change. Once I came to Philanthropy New York, I shared my newfound knowledge of the sector with my own networks to expose other young people to philanthropy as a real career track. With COF's latest survey showing a persistent age gap and lack of diversity in foundation staff, it's imperative that those of us currently in the sector recruit more young people to build the next generation of philanthropic professionals.
Lead with Personal Power versus Positional Power: Young people in philanthropy usually don't sit in a decision-making position within their organization, which can be perceived as limiting their ability to lead change from within. But leadership does not reside in title. Young professionals in any role within a foundation can wield their personal power to persuade and influence others and be a catalyst for change. Although I didn't have a portfolio of grants to manage, I showed leadership at Philanthropy New York by building relationships with foundation program staff and leveraging my role as Public Policy Fellow to connect grantmakers with one another.
I'm thrilled to bring my community-building, leadership development, and relationship management skills with me in my next role working with the Advocacy Institute. I'm even more excited to continue my relationship with Philanthropy New York and its members in the Fall when AI partners with PNY to present an intensive three-day training for funders, going deep into the New York legislative landscape.
To those of you I've met and worked with during my tenure, this isn't a "goodbye," but a "see you soon!" Thank you for making these last two years the best yet.