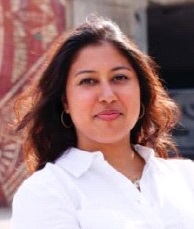 Design and Health: Back Together Again?
By Nupur Chaudhury, Program Officer, The New York State Health Foundation
Having worked at the intersection of health, space, and place for more than 10 years, I'm pleased to see the discussion of improving health outcomes moving beyond blaming the individual (consuming sugar-sweetened beverages or high-fat foods) and genetic predisposition, and more towards the discussion of how the environment influences health.
Our current Health Commissioner, Dr. Mary Bassett, often talks about how your ZIP code is more telling than your genetic code when predicting health. Last month, I moderated a discussion around "Design and Health" with two changemakers who are working at the ZIP code level: Enterprise Community Partner's Elizabeth Zeldin and the Center for Active Design's Lisa Creighton. I'm proud to say that the New York State Health Foundation (NYSHealth) has funded both of them to integrate health-positive design strategies in buildings across New York.  
We talked about a lot. You can see the recap here. But one month later, here's what I'm still thinking about:
Design and Health used to be friends
These two fields were intimately linked at the turn of the 19th century. In fact, the fields of planning and design came out of public health as a way to prevent infectious disease and mitigate environmental health issues stemming from the massive industrialization of urban centers. As we talk about the obesity crisis in the U.S. and worldwide, we need to be real about the fact that it's not just consumption of fat and sugar that has led us here. Sure, we can regulate our food, but we need to acknowledge that designing our cities around cars has significantly contributed to the obesity epidemic. Inactivity has surpassed smoking as the leading cause of death in this country. It's not just that we need to drive less and walk more—we need to design our cities around non-automotive modes of transport: feet and bikes are a good place to start.
Now is the time for them to reconnect
I'm one of the few individuals that has training in both urban planning and public health. I spend the majority of my time (1) translating health data to urban planners and designers to influence design strategies, and (2) explaining to public health practitioners how design can improve health. We need more folks working at the intersection that can spend time in both fields, playing matchmaker and rekindling the connection between the two.
Needed: More researchers and evaluators
In order to connect these two fields again, there's a need to translate health evidence and data into actual design solutions. Organizations like Active Living Research  have done a great job making the research on the health and housing palatable for the layperson, but more effort is needed. Furthermore, we need folks who can use this housing research to develop and document pilots to persuade other parties to join in.
A clear example of this need was brought up during our panel discussion last month. We talked about how Enterprise Community Partners created a health checklist through its Integrated Physical Needs Assessment, and then worked with both the City and the State to make it a requirement for all affordable housing developments. We talked about how the Center for Active Design continues to provide much-needed technical assistance for developers who are committed to integrating health positive design strategies.
But these efforts exist only when developers are required to do the work by a regulatory entity, or have independently decided to commit to healthy buildings. Many more designers, developers, and planners need convincing to work with public health people in the first place. Why not use the data we already have on the interconnectedness of health and housing to make that case?  
Also needed: Deep pockets to join the work (and not just funders)
Managed care organizations (MCOs) and local hospitals have a vested interest in (literally) building health-positive design into the neighborhoods and ZIP codes that they serve. They have to be willing to come to the table with their community benefit dollars to build healthier neighborhoods from the ground up. Programs like Shape up Somerville can succeed only if there are partnerships to help override the existing built environment. Foundations like NYSHealth don't fund capital projects or infrastructure. What we really need is for hospitals and MCOs to pick up the slack—to help curate healthy design of spaces and support health-positive programming. In the health field, we often talk about the high utilizers of health care being disproportionately costly. Beyond care coordination, hospitals and MCOs should invest in building healthy living spaces as a strategy to mitigate those health care costs.
So what can funders do?
Funders can support pilots that combine our collective knowledge of design strategies for health. They can facilitate information sharing and learning collaboratives that get designers and public health practitioners in the room together. It took more than 10 years for the green building movement to be integrated in the building process. I believe we can get design and health back together again in fewer. I'm ready for the long haul—but I'm optimistic.