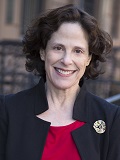 A message from PNY President Ronna Brown, published originally in the New York PhilanthroPost Monthly January 2015 edition.
Philanthropy New York had an eventful and productive 2014. Building on the Board and member input that shaped our 2014-2016 Strategic Plan that we completed at the end of last year, we launched the
Fund for 2025
campaign. It is the articulation of our vision to create a new Philanthropy Center at 1500 Broadway in late spring 2015 and grow our programming and public policy work over the next decade to better serve our members and the philanthropic community. Thanks to the amazing member response to the Fund for 2025, we will have the resources to expand our programming, improve our technological capabilities and create a public policy fellowship program in the coming years.
One of those extended learning sessions was our Annual Meeting, which this year focused a bright spotlight on issues central to women and girls and featured Sec. Hillary Clinton in conversation with ABC News's Robin Roberts. The entire day's programming, including the popular PHIL Talks with diverse women leaders, functioned as an important springboard for new programming throughout the year and other activities of the Funders of Women and Girls group. 
PNY revamped our online presence to provide more comprehensive content and a more user-friendly digital experience. PhilanthropyNewYork.org got a major facelift, and we launched the
New York PhilanthroPost
, a one-stop shop for the latest philanthropy news, sector transitions and career opportunities. The "Smart Assets" blog is now  the "Opinions & Insights" editorial column, essentially a deeper dive into grantmaking and public policy issues from leaders in the philanthropic nonprofit and government sectors. 
Last but not least, we successfully rebuilt our staff after losing a quarter of it. We were flattered that all but one staffer who departed in 2013 went to members (We have one new law student as a PNY alum!). From late 2013 to August 2014 we added six staff members, including at least one new person in each department. We're thrilled to be heading into 2015 with a full team.
Executive: Kathryn O'Neal-Dunham (Chief Operating Officer) and Nick Collins (Executive Coordinator)
Administration: Shanqua Harrison (Controller)
Learning Services: Aditi Davray (Director, Learning Services)
Member Services: Allyson Goldhagen (Manager, Member Services)
Public Policy & Communications: Tiffany Langston (Multimedia Manager)
Sometimes it's hard to see how far you've come until you glance in the rear view mirror. As always, our progress happened as a direct result of your support. Thank you for being a part of Philanthropy New York. Looking ahead to 2015, we have a  big move and major new plans on the horizon. We hope to see you often in 2015!
Best Regards,
Ronna