Wednesday, December 3, 2014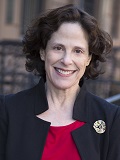 A message from PNY President Ronna Brown, published originally in the New York PhilanthroPost Monthly December 2014 edition
Dear Members:
This has been an exciting year for Philanthropy New York (launching the
Fund for 2025
, initiating our news service, the
New York PhilanthroPost, 
introducing
five new staff members
 and our Annual Meeting with Hillary Clinton, just to name a few activities). As we look forward to 2015, we have a host of new ideas and initiatives in the works – to go with our new home! Underlying all of it is one theme – how do we best meet your needs? To do that well, we're requesting your guidance.  
Over the next year, we will be soliciting your input through surveys and focus groups on proposed PNY plans. We will be examining our program topics and formats, evaluating our member benefits, broadening our outreach and creating new opportunities to engage with the philanthropic community. Keep an eye on your inbox for ways that you can help guide the changes.
But, you don't have to wait until next year! Do you have an idea for a network initiative or program? Are there services that you wish we would offer? Let us know!
Send us an email
with your thoughts. We welcome all suggestions now and throughout next year.
Most importantly, thank you for supporting Philanthropy New York and the philanthropic community! We look forward to continuing our partnership with you in 2015.
Best Regards,
Ronna