Thursday, October 6, 2016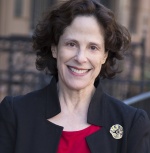 Where Do You See Yourself In the Next Five Years?
A message from PNY President Ronna Brown, originally published in the New York PhilanthroPost October 2016 president's edition.
It's the question you get in job interviews, by work or life coaches, and even occasionally by friends – Where do you see yourself in five years? (By the way, if conducting interviews has you stumped, check out today's Livestream "The Do's and Don'ts of Conducting Interviews for Potential Coworkers at Your Foundation").
The answer to that question can be entirely superficial – or it can reveal something profound about a person's goals and aspirations. It's the question that we at PNY have tried to answer in our next five-year Strategic Plan. We wanted to answer this question in a way that was thoughtful, aspirational and still realistic. To do that, we turned to our Board and an ad hoc committee of dedicated members to think about what works, what we want to keep and where can we push ourselves to do more.
Special Thanks!
Thanks to the Strategic Planning Committee for their terrific guidance and hard work:
Mike Pratt (Chair)
The Scherman Foundation
Chris Cardona
Ford Foundation
Stephen Foster
The Overbrook Foundation
Michael Haberman
JPMorgan Chase & Co.
Philip Li
Robert Sterling Clark Foundation
Paula Luff
Viso Strategies
Kavitha Mediratta
The Atlantic Philanthropies
Jane O'Connell
Altman Foundation
Pooja O'Hanlon
The Elmezzi Foundation
Supported by consultant Cynthia Gibson
For the last nine months, those groups have analyzed our stats, read reports, asked questions and considered a range of options. They have ended up with, we believe,  a strong  plan to guide us for the next five years.
Our plan builds on PNY's nearly four-decade history of nurturing an effective philanthropic community. We hope you will take the time to read the plan and share your reactions with us. We very much want to hear from you.
Before you get started, here are some things to consider:
In an earlier stage of the Strategic Plan development process, PNY worked with the Center for Effective Philanthropy to conduct a survey of members who have attended programs to assess how those programs and our networks are perceived. You can read the executive summary of CEP's report, but the upshot is that members hold our current programming in high regard and want more of what we're doing. In the past, PNY strategic plans were in three-year increments.  This is a five-year plan. That time frame better reflects our organization's stability and the long-term horizon of our organizational goals. Three of the four main areas of this draft strategic plan are clearly based on the work  we've pursued in past strategic plans – networks for professional development, public policy and organizational sustainability.  The fourth, "innovative sectoral practices," is being articulated in a strategic plan for the first time. But even though the draft strategic plan moves PNY into some new territory, readers should know that the Board and Strategic Planning Committee see this plan as building on the foundation of PNY's current work. Click here to read the executive summary of the Draft 2017-2021 Strategic Plan. 
We will be collecting member comments until November 10. We will then share all comments with the Strategic Planning Committee and the Board before making final changes to the plan.
If you would like to share your thoughts with us and your fellow members, please use the comments function on the page.  If you would like to share your comments privately, please email me at rbrown@philanthropynewyork.org.  And, if you would like to deliver your comments in person, please join PNY Staff and board members on November 9 at 4 pm in the PNY offices at 1500 Broadway.
We are excited about the vision we have laid out in this plan and eager to get started.  As this plan makes clear, everything we do well is because we do it with member support and participation.
Thank you.