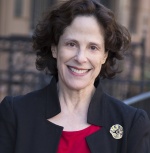 A message from PNY President Ronna Brown, published originally in the New York PhilanthroPost Monthly June 2015 edition.
In just a few days, we will say goodbye to five people who have gracefully and effectively served on the Philanthropy New York Board of Directors for the last six years or more. Our Board serves the entire PNY membership by giving their time, effort and energy to many different projects and initiatives, from developing programmatic topics to serving as chairs of all of our committees. The Board was also integral in the success of our Vision for 2025 campaign. We could not accomplish all we do without our amazing, dedicated Board of Directors. We ask a lot of each of them, and we get so much more in return.
Sixteen of our current Board members will continue to serve in the coming year, but please join me in thanking our term-limited departing Board members for their service:
Leisle Lin, Chair, Senior Vice President, Finance & Operations, Alfred P. Sloan Foundation
Ex-Officio, all Standing and Special Board Committees
Melanie Mortimer, Vice Chair, President, SIFMA Foundation
Member, Fund for 2025 and Governance and Nominating Committees
Rohit Burman, Executive Director, Global Philanthropy and Corporate Citizenship, Estée Lauder Companies
Member, Communications Advisory Committee
Diana Davenport, Vice President, Administration, The Commonwealth Fund 
Co-Chair, Committee on Members
Anisa Kamadoli Costa, Chairman and President, The Tiffany & Co. Foundation
Chief Sustainability Officer, Tiffany & Co.
Member, Committee on Members
It has been wonderful working with each of them, and each has been a great contributor to the Board and the larger PNY community. I am calling out the departing board members, but in fact, we have so many PNY members who contribute to committees, working groups, programs and our blog. Board service is just one way of many that our members support and strengthen their community. We are deeply grateful and appreciative of all that all of you do!
Best Regards,
Ronna