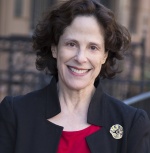 A message from PNY President Ronna Brown, published originally in the New York PhilanthroPost Monthly March 2016 edition.
"We're looking for deeper information that may get lost in our informal conversations."
People love to read the results of a good survey, but hardly anyone loves completing a survey. Well-crafted surveys take organizations time and require resources. Add all that up and it means that no organization embarks on a survey effort casually. So, when we made the decision that PNY should survey members, please know it was a well-reasoned decision and the need for the survey is significant and its impact will be valuable.
Here's why:  Many of our members supported us in the development of the
Vision for 2025
. One key element under that vision is to improve, deepen and expand our programming. In order to do that work in the way that will support our members' needs, we need to hear from you about your experiences. In addition, we are coming to the end of our current Strategic Plan and will use the information gained through the survey in development of the next plan.
Because we want to ensure that we're doing this survey right, we've brought in The Center for Effective Philanthropy. Many of our members know and trust Phil Buchannan's team and we are excited that we are the very first Regional Association CEP has worked with to survey its members. We are thrilled to be partnering with CEP on this, an organization whose mission is well-aligned with our own goal of helping philanthropy increase effectiveness and impact.
CEP will be putting the survey into the field in the next week. We are specifically surveying members who have attended at least a few programs over the past two years, and only surveying a 400 person sample of those individuals to keep our costs manageable. If you are among the lucky 400 who are asked to provide input through our survey, we hope you will invest the relatively few minutes needed to complete it and guide us in our thinking. And, of course, your feedback is entirely anonymous.
I, along with the other PNY staff, are deeply engaged with members on a date-to-day basis and use our personal interactions to shape our work developing programs. But a thoughtfully developed survey can bring a deeper and clearer understanding of the strengths and weaknesses of work that can get lost in informal conversations. So, help us do our work well and if asked, fill out the survey! Thank you.
Best regards,
Ronna