Wednesday, January 6, 2016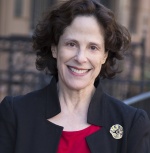 A message from PNY President Ronna Brown, published originally in the New York PhilanthroPost Monthly January 2016 edition.
"Listening to our members, we've developed a legal series that will also be added to the PNY Core."
Last month, we sent out an email to Philanthropy New York members detailing the many program series that we will be offering in 2016 under the heading of the "PNY Core" and we invited all of you to "Forget the typical New Year resolutions and instead strengthen your philanthropic core this year."
We received lots of great feedback on that message and even more interest in the various series, which includes Essential Skills and Strategies for New Grantmakers, Philanthropy 101, Advocacy 101, Impact Investing Series, Interpreting Financial Statements Series and Evaluation and Learning: The Fundamentals.
Around the same time we were mapping out the 2016 PNY Core set of programs last November, we hosted a program by Arabella Advisors' Andrew Schulz titled "I Didn't Know You Could Do That With a Family Foundation," which provided an overview of legal and regulatory boundaries, focusing especially on questions that often arise with family foundations. Program participants identified a need for more learning about legal and regulatory boundaries on several key topics, not just for family foundations, but for a wide range of philanthropic organizations that do not have their own in-house counsel.
Listening to our members, we've developed another series that we will be presenting in 2016 and will be added to the set of PNY Core programs in future years.  This year's legal series with include:
February 17
Legal Series:  Grants to Individuals
Presenter: A. Nicole Campbell, Open Society Foundation
March 24
Legal Series:  International Grantmaking
Presenters: Yvonne Moore, Philanthropic Advisor, and Ken Monteiro, Ford Foundation
April 13
Legal Series:  Self-Dealing (Family Foundations & Family Offices)
Presenter: John Sare, Partner, Exempt Organizations Group, Patterson Belknap Webb & Tyler LLP
June 8
Legal Series:  Fiscal Sponsorships
Presenters: Nishka Chandrasoma, Deputy General Counsel, Ford Foundation; Nicholas Hodges, Senior VP & COO, Rockefeller Philanthropy Advisors; and Kathryn O'Neal-Dunham, COO, Philanthropy New York
All four of the Legal Series programs will be posted to the PNY event calendar in the coming days, but if you would like to reserve a spot for all four or a specific program right away, email us today. 
As you may know, expanding our educational programming by adding more series is an important part of PNY's current strategic plan.  It is also an area of organizational development that is supported by the Fund for 2025.  This series was created based on requests from members made during previous programming.   If there are other areas of programming that you think we should consider adding to the PNY Core, please share your ideas with us.
And, of course, we wish you and all of our colleagues a very happy and productive 2016!
Best Regards,
Ronna