Wednesday, August 3, 2016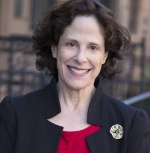 Our Listening Imperative and the Urgency of Understanding
A message from PNY President Ronna Brown, published originally in the New York PhilanthroPost Monthly August 2016 edition.
Last Sunday, a group of 39 funders published an advertisement in The New York Times and The Washington Post calling attention to our nation's moment of crisis and championing the hard work of nonprofits, supported by funders, to build bridges "neighbor to neighbor, community by community." It was an unapologetic call for dialogue leading to a more just and equal America.
The moment of crisis the ad points to has been partially created by the barrage of horrific events that have occurred this summer, on top of the mountain of earlier tragedies.  We have seen so many killed: people of color going about their day or driving down a road, cops on the beat protecting others, children going to school, LGBTQ people enjoying a weekend Latin night with friends and literally countless more. It is only human to feel despair.
And, therein lies the deep value of the message posted this last weekend by foundations. It is an unequivocal message that there are #ReasonsForHope in the critical work and dialogue happening in communities. We need not only feel the incredible and overwhelming anguish of these tragic deaths, but we need to be willing to engage in the work demanded of all of us to do better – to do more.  
What is the work that a regional association of grantmakers can do that is relevant or useful? We can be part of the philanthropic community that believes listening and learning, and then acting, works. At this year's Forum of Regional Associations of Grantmakers annual conference, which also welcomes philanthropy-advancing organizations (PAOs) from across the nation, the web of issues linking racial justice, gun violence and justice systems was a constant theme - part of every conversation. No matter if we were coming from New York, Georgia, Texas, Wisconsin, Indiana or California, we were all talking about these issues, and how to best help our members and our communities work together.  
It is easy to be impatient with listening, talking and learning. But taking the time to grow our understanding of each other has never been more urgent.
Philanthropy New York's efforts to increase equity and inclusion in philanthropy are strongly embraced by our members. Two small examples are the increasing number who have joined our Committee for Equitable and Inclusive Philanthropy, and the increasing numbers of people attending the events sponsored by that committee. Please consider joining us for our next program Sept. 14 focused on tools for racial equity in grantmaking.
Our members are demonstrating that philanthropy has a unique and important role in nurturing conversations that matter and supporting work in communities that will create the just and equitable America promised in our nation's founding documents. We will keep supporting that work in every way we can.
Best Regards,
Ronna