Wednesday, November 4, 2015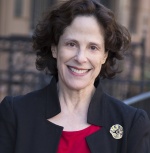 A message from PNY President Ronna Brown, published originally in the New York PhilanthroPost Monthly November 2015 edition.
I've talked with several PNY members about how much they are looking forward to the November 19 program "
Education Reform in Newark: Lessons for Philanthropy
" and how impressive the list of speakers is including "The Prize" author Dale Russakoff.  We are thrilled that Dale will be with us, and frankly excited about the entire stellar panel.
This program represents, I believe, the very best of what Philanthropy New York does. We had conceived the program well before Dale's book hit the best seller lists and had already reached out to many of the distinguished panelists to participate in the discussion. As we so often do, we are striving to convene multiple stakeholders, with different perspectives, to engage in an open exchange of views, with the goal of having funders hear and share insights.
We always want to draw out the lessons learned – from a wide variety of points of view – so that everyone can strengthen their work. 
If you know the backgrounds of the panelists, you know that each one will have an important and unique perspective on the Newark education reform efforts:
 
Kimberly Baxter McLain, President and CEO, Foundation for Newark's Future
Joanna Belcher, Chief Academic Officer, KIPP-New Jersey
Irene Cooper-Basch, Executive Officer, Victoria Foundation
Dominique D. Lee, Chief Executive Officer and Founder, BRICK Academy
Thais Marques, Community Organizer, New Jersey Communities United
Dale Russakoff, Author of "The Prize"
Tynesha McHarris (Moderator), Senior Consultant, NoVo Foundation
 
There is so much to be learned from the Newark experience that can be applied to education philanthropy in New York and across the nation and we are grateful for all of the panelists' participation. 
 
We've been live-streaming and recording more and more of our programs to ensure that the ideas generated reach the most people possible. For example, the recording of the recent "More Than Giving: Theory of the Foundation" program turned out to be exceptionally
popular
online. 
The Newark program will not be one of those live-streamed programs.  This is a discussion that will be better served by staying in the room in order to support an open and candid dialogue about a complex topic. This open exchange of ideas and experiences within a safe space is central to Philanthropy New York's mission. 
 
The RSVP list is filling up fast, so I encourage you to register today.
Best Regards,
Ronna