New Hive Grants Totaling $663,000 Boost Digital Media Learning in NYC After-School Programs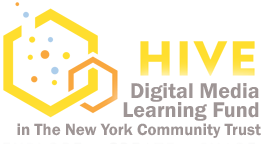 Teens will record residents' stories to make a multimedia map of the Bronx; make, play, and remix wired steel drums; and use a rock camp, audio lab, and planetarium to learn about the science of sound-with grants from the Hive Digital Media Learning Fund in The New York Community Trust.
New York, NY (June 2, 2014) A Hunger Games-inspired video game will get young people to think about real-world inequality; teens on probation will write and produce original music; and skateboarders will make digital maps of skate haunts and produce videos about their subculture. In all, 13 projects will start or expand as the Hive Digital Media Learning Fund reshapes after-school learning in New York City.

Hive, in its fifth year, gives teens the tools to become creators, not just consumers, of digital media and the web, and encouraging creative, interdisciplinary thinking and collaboration. With this round, Hive has made more than $5 million in grants to dozens of groups throughout the City.

"The Hive has taken what teens do after school to the next level," says Kerry McCarthy, New York Community Trust program officer and manager of the Hive Fund. "Fun, hands-on programs connect what young people are passionate about-skateboarding, fashion, music, social media, and gaming-with science, technology, engineering, and math."

"The Hive incubates innovation that creates new ways for young people in the City to learn," says Leah Gilliam, director of Mozilla Hive NYC, the network that cultivates collaboration between grantees and encourages shared learning and best practices. "We foster connections-between large cultural institutions and small education start-ups, and between schools and nonprofits-that result in new, better networked models for learning that empower youth to experiment and create with digital media and technology."

"Our Digital Ready partnership with the Hive NYC Learning Network has made a tremendous impact on both our program and our schools," says Michael Preston, senior director of digital learning, NYC Department of Education Office of Postsecondary Readiness. "Hive member organizations have created opportunities for hundreds of students to discover and explore new interests. Furthermore, they have helped us demonstrate how partnerships between schools and youth-serving organizations can support interest-driven learning experiences both in and out of school."

The Hive Digital Media Learning Fund was started by the John D. and Catherine T. MacArthur Foundation and The New York Community Trust in 2010 so that, together, educators and young people can design new and exciting ways to learn, create, and participate beyond the classroom. Other donors include the Altman Foundation, Renate, Hans, and Maria Hofmann Trust, Mozilla Foundation, Stavros Niarchos Foundation, and David Rockefeller Fund.
The Hive Digital Media Learning Fund in The New York Community Trust made the following 13 grants in May, 2014:
With a $35,000 grant to Beam Center, high school students from the Afro-Caribbean community in Flatbush, Brooklyn will make and play steel drums; then develop digital sensors and circuits on their instruments to manipulate and remix their music. Partner: Brooklyn College Community Partnership  
$37,500 to Bronx Museum of the Arts will fuel a new afterschool program, Mapping the Bronx, in which teens interview Bronx residents and then produce multimedia works on the history and culture of their borough. Partner: Center for Urban Pedagogy  
Brooklyn College Community Partnership is using a $25,000 grant to design a new Art Lab center where youth, adults, and families can experiment and invent using digital circuitry, 3-D printing, and other specialized tools. Partners: MOUSE and New York Hall of Science  
With a $50,000 grant, Carnegie Hall will connect teaching artists with teens referred by the City Department of Probation and Administration of Children's Services to create, remix, and share music. Partner: World-Up  
KickFlip, a program created by City Lore with previous Hive funding, gets skateboarders to design and build digital maps of the city's best skate parks, make videos about skating culture, and create games using gyroscopes, Bluetooth, and wired-up skateboards. A new $100,000 grant will help them scale the program for adoption by other youth groups. Partner: Harold Hunter Foundation  
DreamYard, the largest provider of arts education in the Bronx, is receiving a $150,000 grant to train teachers and students how to boost their college applications with digital learning portfolios containing videos, blogs, websites, and evidence of learning in math, history, science, art, and digital media. Partner: Parsons The New School for Design  
Basketball-loving teens in the Bronx will learn technical and analytical skills by creating websites, videos, and blogs based on their interest in the sport. Funded by a $14,000 grant, 20 teens in Exposure Camp's Athletechs program will share their projects at the Bronx Tech Meetup and with other youth organizations across the City. Partner: City Lore  
Global Kids' program, HungerCraft, features an educational video game that merges Minecraft with Hunger Games, to challenge students to think about inequality and oppression. With a $50,000 grant, it will run additional workshops and develop curriculum for HungerCraft with a plan for how to distribute it nationally. Partners: Bronx Museum, Brooklyn Public Library, and the Harry Potter Alliance  
With a $52,000 grant, Iridescent will bring other Hive grantees together to investigate and playtest digital game design activities for students. It will host Game Jam events and create open-source game design curriculum. Partners: Brooklyn College Community Partnership, Eyebeam, Exposure Camp, Global Kids, MOUSE, and Museum of the Moving Image  
The Lower Eastside Girls Club in Manhattan is using $50,000 for Making Waves: The Science of Sound, a program that makes use of its audio lab, planetarium, and rock camp in the group's new 50,000 sq ft. clubhouse. Girls will explore capturing, creating, mixing, and distorting sound. Partner: Willie Mae Rock Camp for Girls  
With $39,200, New York City Writing Project will bring students and teachers together to improve their digital skills through writing blogs, producing TV shows for the BronxNET youth channel, creating videos with Mozilla's Popcorn Maker, and designing and earning digital badges. Partner: BronxNET Television  
Students will learn to make professional quality photographs and online portfolios using iPhones as part of a $10,000 grant to NYC SALT. The group will also create an iPhonography curriculum for high school and college students. Partners: Common Sense Media and the School for Visual Arts  
With a $50,000 grant, Reel Works will design, create, and test a set of youth digital media badges based on skills, such as fluency in programming languages or video editing, that align with Common Core learning standards. These badges are credentials that can then be presented to schools and employers. Partner: Urban Arts Partnership
For more information visit the MacArthur Foundation, Mozilla Foundation and Hive NYC Learning Network, and follow @HiveLearningNYC.     
###  
The New York Community Trust
Since 1924, The New York Community Trust has been the home of charitable New Yorkers who share a passion for the City and its suburbs - and who are committed to improving them. The Trust supports an array of effective nonprofits that help make the City a vital and secure place to live, learn, work, and play, while building permanent resources for the future. The New York Community Trust ended 2013 with assets of $2.4 billion in more than 2,000 charitable funds, and made grants totaling $141 million. The Trust welcomes new donors. Information at nycommunitytrust.org.

Hive NYC
Mozilla Hive NYC Learning Network (Hive NYC) is a city-wide lab where educators, technologists and youth-development experts build innovative, connected learning experiences for young people. There are 55 member organizations, including museums, libraries, afterschool programs, code clubs and informal learning spaces. Together, they share best practices, learn from one another, and create an ecosystem of programs, tools and events that prepare young people for success in the digital age. Information at hivenyc.org