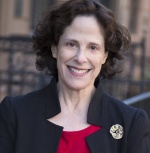 Name a New Kind of Funder Action Meeting
A message from PNY President Ronna Brown, published originally in the New York PhilanthroPost March 2017 president's edition.
One of the important messages we are hearing from our members these days is their desire to meet in small groups of other funders who are ready to talk about specific actions they are taking now on issues.  Members are also asking more regularly to find ways of combining forces with other funders at a similar stage. 
That is why, for several of our funder groups – both formal and informal – concerned about topics like climate change, immigrant issues, voter access and more, we are creating a new style of meeting.  For the moment, we are calling it "funder action meetings."  This is a place holder description for these meetings because we have not come up with the perfect name that accurately and succinctly evokes the purpose of these gatherings.
The meetings are intended to be relatively small groups of funders who are each already committed to fund in the topic area, want to understand how other funders are directing their resources in that area at this moment in time and think together about opportunities for coordination or collaboration. 
Some of the names we've brainstormed include:
Funders Take Action
Mobilizing for Mission
PhilACTION (as in "Philanthropy in Action')
We know we have some clever writers in our membership, so give us your best idea!
But more importantly, we really want to lay the groundwork for your thinking about these action-oriented funder meetings.  We are starting with a group of environmental funders coming together on April to share strategies. We have a few more in the works.  If Philanthropy New York can help  you facilitate that kind of action-oriented meeting on a relevant topic for your foundation, let us know. 
Many members are developing strategies to support their missions in the face of change on the federal level.   Our job is to support your work and, a first step, to provide a way to facilitate your action.
Ideas about this?  Send me an email!
As always, thank you for your ongoing support to  sustain a strong philanthropic community in New York.