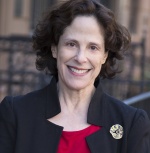 I'm Having a CEO Moment. And You Can, Too
A message from PNY President Ronna Brown, published originally in the New York PhilanthroPost April 2017 president's edition.
This month we're doing something a little different: A two-for-one!
As you've probably noticed over the past few months, we've been working really hard to capture more and more of the great thinking that happens with our members at Philanthropy New York on our new media platform, PhilTV.  We're capturing and promoting panel discussions, chats with program participants, member-produced video and lot's more. 
Now, we're letting foundation CEOs get in on the action.  I am so fortunate that I get to talk every day with amazingly smart and passionate CEOs of our member organizations, and our new experiment "The CEO Moment" is an attempt to capture just a little bit of that and share it with the Philanthropy New York community.
This first super short 5-minute interview is with Proteus Fund President Paul DiDonato.  He packs an impressive amount of insights into this clip, talking about how the current political climate is shaping his grantmaking, why Proteus created a 501c4 and what they are doing to be most effective now.
Check it out!