This piece originally appeared in the June 2014 email edition of the Philanthropy New York Currents e-Newsletter.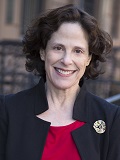 by Ronna Brown, President, Philanthropy New York
This is the last Currents.
No - this is not actually the end of a monthly newsletter, but a heads-up about changes  in the coming months.
As we mentioned a few weeks ago when we launched our new website,  we are rebranding our e-news distributions and letting you get our content in variety of ways.  We are doing this as a direct response to feedback you have provided.   By the way - thanks for the great feedback about the new website.  We are thrilled it has gone so well and that so many of you love it!
You may continue to receive our two monthly e-newsletters, which will now be known as New York PhilanthroPost Monthly (formerly Currents) New YorkPhilanthroPost Policy Download (formerly Philanthropy Connects). Over the next month, we will be redesigning and reorganizing the content in our two newsletters, but the core content will be the same.
The real change will be taking place behind the scenes. Instead of collecting and disseminating news monthly, we are now  posting news on the New York PhilanthroPost portion of our website on a daily basis.  The editorial content we have previously presented our Smart Assets blog will now have an even bigger audience on the New York PhilanthroPost Opinions & Insights column. With this up-to-the minute news aggregation and more original content, we really are one of your key sources for philanthropic news!
And just like a lot of news sites, you can subscribe to New York PhilanthroPost news in a variety of ways. We will soon be producing weekly and daily versions of our news that you can get delivered directly to your email inbox.  All you have to do is change your account settings and choose the news delivery you want.
One of the other big changes revolves around the audience for our news.  You are our primary audience. But going forward,  we will be promoting the site to leaders in the nonprofit, government and business sectors, as well as the larger community of funders nationwide. They can all subscribe to receive our news and we believe this will significantly enlarge the audience for PNY member news, so please, send us your news and contribute thought pieces to our Opinion & Insights column.
I hope you have had a chance to log into the new website and check out some of the improved functionality. We want to keep making improvements to every aspect of our work, so if you have suggestions for the site or for our news delivery, let us know. And, we hope you can each enjoy the start of summer.