In conversation with Robin Roberts, Sec. Clinton discussed the No Ceilings initiative, #BringBackOurGirls, education, presidential politics and strategies to full equality.
Philanthropy New York's 35th Annual Meeting also featured Anu Bhagwati, Farhana Khera, Janet Mock.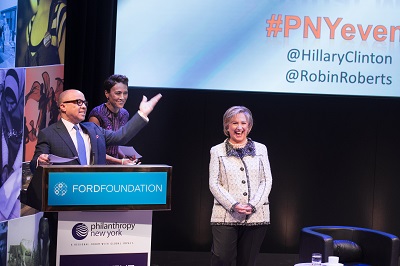 Philanthropy New York presented an in-depth conversation between former U.S. Secretary of State Hillary Rodham Clinton and "Good Morning America" Co-Anchor Robin Roberts focusing on issues central to women and girls. The discussion was the culminating event of Philanthropy New York's 35th Annual Meeting, a half-day public policy conference on May 7, 2014, featuring leaders from the fields of philanthropy, government, advocacy and other NGOs. The event was hosted by The Ford Foundation.
Introduced by Ford Foundation President Darren Walker, Robin Roberts sat down with Sec. Clinton to talk about "No Ceilings: The Full Participation Project." Twenty years after Secretary Clinton's pivotal role in the UN Fourth World Conference on Women in Beijing, she is advancing new work to identify just how much progress we've made on issues central to women and girls at home and abroad. The No Ceilings initiative will work with leading technology partners to create a comprehensive and accessible global review that will bring together and widely distribute the best data on the status of women and girls and develop a 21st century agenda to advance full participation.
The conversation raged across several hot news topics but focused on the role of philanthropy, government and international bodies working together or to challenge one another to achieve full participation of women and girls everywhere.
Secretary Clinton's conversation with Robin Roberts capped a half-day program focusing on issues central to the empowerment of women and girls locally and around the world. The previous hour's programming – a series of "PHIL talks" featuring three compelling women with instructive personal histories are also be available for viewing below. Those three women are:
Anu Bhagwati, Executive Director, Service Women's Action Network
Farhana Khera, President & Executive Director, Muslim Advocates
Janet Mock, Trustee, Arcus Foundation; author of "Redefining Realness"
We invite you to experience (or re-experience) the day's events with:
A photo slide show
Video recordings of the session with the three "PHIL talk" leaders and the session with Sec. Clinton and Robin Roberts.
Our Storify collection of Tweets from the day.
We want to give a big thank you to all of our members who participated in these discussions – in the auditorium, in the over-flow rooms and in the live-feed audience. We do these big public policy-focused annual meetings because of your interest in deeply exploring challenging issues. We hope that many more members will choose to get involved in Funders of Women and Girls. If you are interested in doing so, let us know.
As we said many times at the Annual Meeting, this is only the beginning. We have five programs on women and girls issues in the planning stages for the coming months and will work with the Funders of Women and Girls group to plan additional collaborative activities.
Thank you to everyone who attended our 34th Annual Meeting, and thank you again to our gracious hosts at the Ford Foundation!
For more information about this year's annual meeting of planning for next year, please contact Michael Hamill Remaley, Senior Vice President, Public Policy & Communication at mremaley@philanthropynewyork.org or 212.714.0699 x222
PHOTO SLIDESHOW
See who was there and how your colleagues interacted with these leaders!
VIDEO
Advance through the video to see the key moments:
00:09 Ronna Brown, President, Philanthropy New York introduces moderator.
02:55 Richard Smith, President, The Pinkerton Foundation, introduces the "PHIL Talks" session.
03:45 PHIL Talk: Farhana Khera, President & Executive Director, Muslim Advocates
16:48 PHIL Talk: Anu Bhagwati, Executive Director, Service Women's Action Network
31:20 PHIL Talk: Janet Mock, Trustee, Arcus Foundation; author of "Redefining Realness"
42:10 Panel Discussion with moderator and our three PHIL Talkers
Advance through the video to see the key moments:
00:00 Richard Smith introduces Darren Walker, President, Ford Foundation
01:45 Darren Walker introduces Clinton and Roberts
06:18 Clinton and Roberts begin conversation
06:56 Kidnapped girls in Nigeria
10:33 Benghazi
11:16 "No Ceilings: The Full Participation Project"
20:07 STEM category and women's representation
23:00 Advancement for women and girls – going forward
25:43 Global views of women and the workforce
29:56 Role of U.S. federal government in improving education opportunities (Question from audience)
32:33 "Hard Choices"
37:14 2016 Election? (Question from audience)
38:49 Philanthropy: How does it not just become dialogue, but action?
43:36 Moving forward – women and the workforce
CHECK OUT THESE RESOURCES