The past few years have demonstrated the value of being flexible and adaptable to societal changes and institutional shifts. At the same time, nonprofits and their funding partners are seeing and feeling the way this flexibility may come at a cost to one's emotional, creative, and social energy. This cost is only amplified for communities of color. Maintaining flexibility often requires pausing to care for one's self and others. Self care is an important step in maintaining a healthy relationship with ourselves. Doing things to take care of our bodies, minds, and souls promotes well-being of ourselves and communities around us. It also reminds us to stop, breathe, and reflect. 
If you've been meaning to "self care," but find it difficult to make the time and space, OR are unsure of what types of activities or practices you might be able to engage with, this session is for you. This interactive session will offer and engage participants in a variety of simple - yet meaningful - contemplative practices that can be leveraged in a professional environment toward self awareness, reflection, and other skills useful for decreasing our overall stress and increasing our ability and capacities to be culturally agile.
What will you learn?
An understanding of the science of stress and how that can lead to burnout
How to engage in simple yet powerful mind-body practices that can be leveraged for self-care
Ways to reflect on the connections between self-care practice and being culturally competent
Speaker
Who should attend?
All interested funders, regardless of roles. What to expect: interactive session with individual and collective movement. 
How do I sign up?
Members: Please log in and click the Register Now link above (no fee).
Non-Members: Please email register@philanthropynewyork.org. ($150 fee) 
Registration is required by October 17th. 
Registrants will receive the webinar link a day prior to each session.
Please email register@philanthropynewyork.org with questions or for further information on this program or on eligibility.
What else should I know?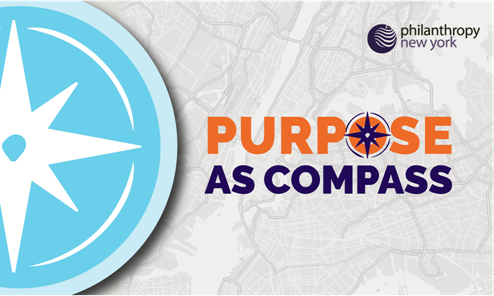 **This is a part of our Purpose as Compass program series, supporting the sector to reimagine philanthropy in service to racial equity and purpose.**